America is a Proud Country. We are the "Land of the FREE and the Home of the BRAVE." Saying THANK YOU isn't enough to offer these brave men and women and their families that have sacrificed so much to provide us the opportunity to claim this time honored title.
Many business owners today are Veterans themselves and understand how much a discount on products and services means to a military member. It may seem like a small gesture but, to Veterans, active military members and their families, these offers are meaningful in many ways.
USA Vet Discounts is uniting our military personnel and veterans with business who want to show their support and gratitude by providing discounts, services and special offers to them and their families. If you own a business* or know of a business that would like to offer discounts, specials or services to our active military personnel, veterans and their families, or list a job opening for a veteran, please fill in the form below and someone will contact you or them with more information about our packages. Our Ad Packages are detailed below.
What Your Business Gains:
Recognition as a Military Friendly Business
Qualified lead generation and reoccurring sales opportunity
Expanded exposure and reach through our marketing efforts on the web, geo targeting, social media and more
Gain the loyalty of the active duty, veterans and family members in your area.
To say THANK YOU in a meaningful way
What You Receive:
Door / Window decals signifying your participation in this program
Package amenities
Announcement to registered service personnel
Social Media exposure
Increased Traffic to your website and your door
Not in Arizona or Mississippi?
USAVetDiscounts is expanding daily. If your business resides in a state not currently serviced and you are interested in being listed, please fill in the form to the right and we will contact you immediately.
Review our ad packages found below to see how we can support you for supporting our troops.
To order a media kit or for more information:
What we offer are simple and affordable advertising opportunities. What you will gain is a greater audience, high profile web and social media exposure, loyal customers and the gratitude and appreciation from every active service member, Veteran and their families for your recognition and support. You cannot put a price on that.
In each city / town, you will find multiple business categories. We will list only 2 businesses in each sub- category. For example, in the town of Glendale, Az., in the sub-category of Tire Shop, space will be offered to 2 select shops only.
Take a moment to review our Ad Packages and find the one best for you.
Basic Business Package is a ad image listing in one city / town and one category. The ad will include:
Your Logo
Business Name
Business Phone
Your Discount or Special Offer
Link to Your Website
Ad posting to our Social Media Pages
Tap to Call ( Mobile Feature)
Individuals in your area will be notified of your inclusion to the directory and your ad will also be posted to our Social Media pages with announcement to followers within 7 days of completion. Multiple listings in additional areas available at discounted rates.

Need Multiple Listings?
Interested in listing your business in multiple towns / cities? We offer a significant discount to businesses desiring to either market outside their respective area or include multiple locations.
Silver Star Supporter Ad:
This is a Premiere Ad with static (unshared) placement on highly trafficked pages. This ad is designed for branding purposes rather than sales efforts. Your ad can include a message of "Thanks", a tribute to a Veteran, or just your business information.
In addition, you will have mention in the "First To Know" monthly newsletter going out to all members and your ad will be posted to our Social Media pages with an announcement regarding your offer and support..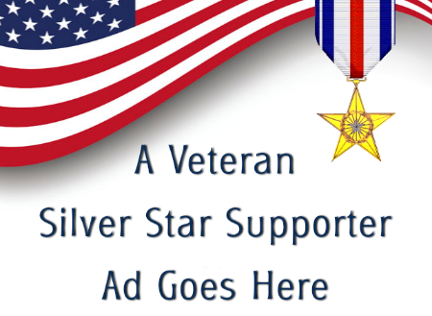 Silver Star Sponsor Bundle:
This is the optimal opportunity to brand your business through a message of gratitude or tribute, in the hearts and minds of loyal customers and advertise a significant discount or special offer to them.
This package includes:
The Basic Business Package
Silver Star Sponsor Package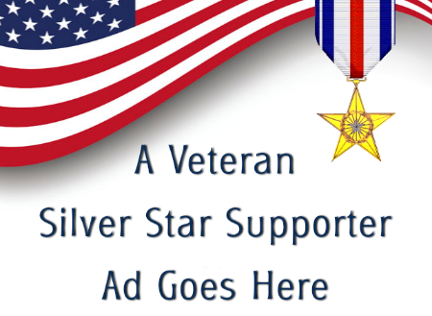 Showcase Banner Package:
Sponsor a QUADRANT encompassing multiple cities with a Showcase Banner on that areas page. This is a static banner (unshared) and placed in prominent positioning at the top of the page branding your company as a Premiere Supporter. This package includes:
1 - Showcase Banner
1 - Business Listing ( area of choice)
1 - Silver Star Supporter Ad
Multiple Business Listings and Silver Star Suppporter ads are available at significant discounts bundled with this package.
Have an Event you want to advertise?
USAVetDiscounts has a dedicated page in each state to showcase advertised events. These over-sized ads provide you with the space to detail your event and can link to your ticket sales portal or website. In addition, your event will be posted to our Events section on our Social Media pages with information about your offer and aninvitation to all followers and members.
Are You a House of Worship?
We believe in ministering to the body, mind and spirit. It matters not the denomination, only that you and the congregation are a Veteran Friendly House of Worship providing the support and inspiration while ministering to the needs of military Veterans, active duty personnel and their families.
We have dedicated a special page in each state to helping Veterans find a spiritual home. The ads are over-sized and can link to your website along with a Mobile Friendly Tap to Call feature for those wanting to offer spiritual counseling.
Want to Employ Veterans? Be a Hero - Hire a Hero!
If you are an employer with an interest in hiring Veterans then "Get Your Hero On" and advertise your job opening here on our Employment Opportunities section. The talents, abilities and mindset a Veteran brings to the table can change the face of your business. Our Employment listings provide you with the opportunity to showcase your opening linking to your website to provide more detailed information. Your ad will also post to our Social Media pages and followers / subscribers will be notified of your openings.
Want to Advertise With Us?
If you are interested in placing an ad, and would like more information, please fill out the form at the top of the page and we will contact you within 24 hours or Call (480) 709 2262 in Arizona or (228) 297 1389 in Mississippi. We'll help put a package together to suit your needs.

Copyright 2016 - All Rights Reserved